Gyotaku
Summer Art 2013- Art of Japan starts with GYOTAKU,"fish rubbings".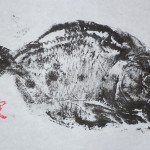 This ancient art form was first used by fishermen to create a permanent, detailed,
record of the size and species of their catch, for bragging on later!
Directions: catch a fish, ink it up, and print the image on rice paper!
---
Lori Jakubow, LLC | Original Art | Virginia | Lori@LoriJakubow.com
---